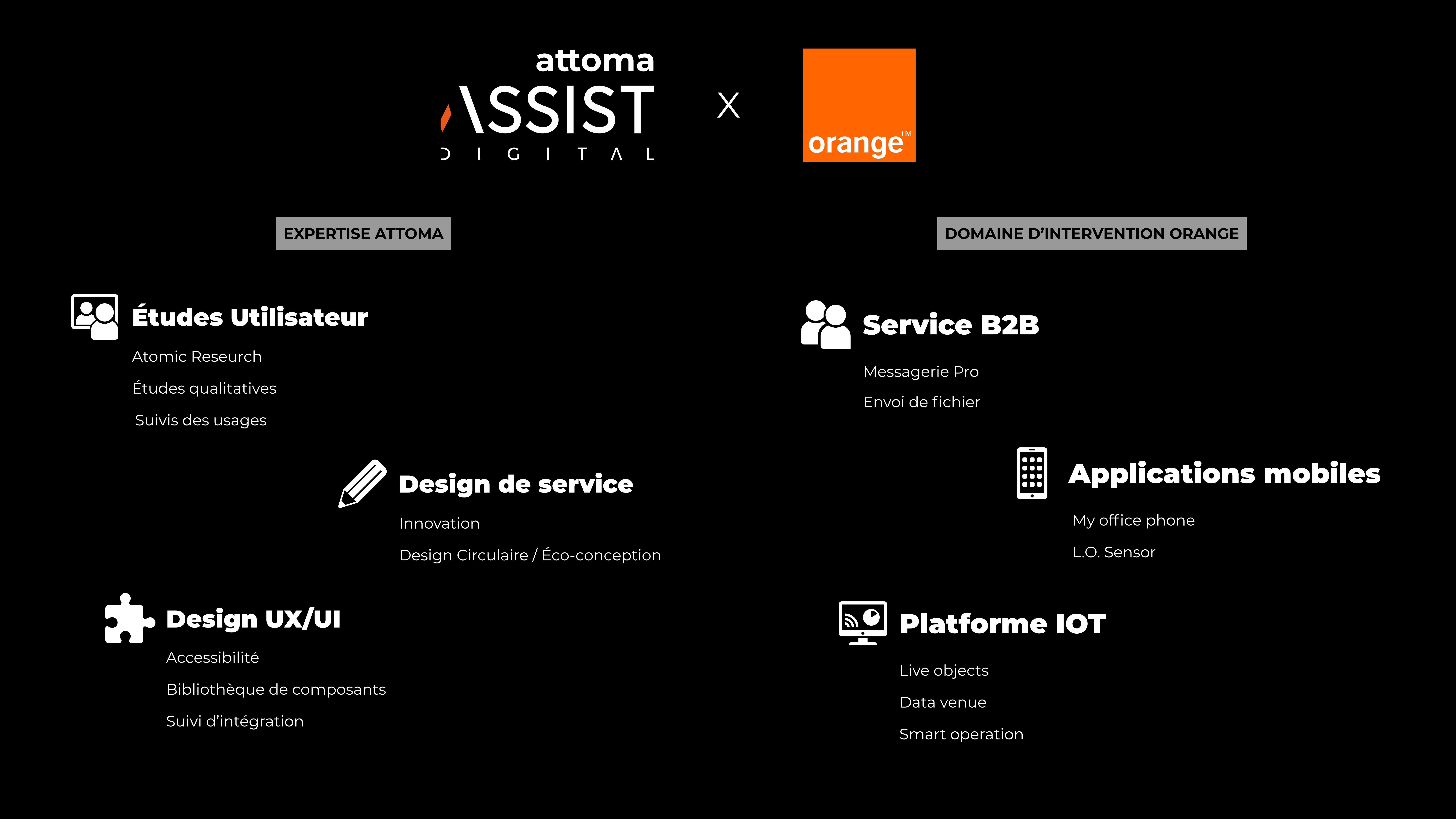 Orange & Attoma: a trust-based partnership
Attoma has been working with Orange on their projects for many years. From optimising the Group's market leading professional inbox service, to working on a management tool for IoT sensors, Attoma has sought to adapt to the various issues addressed by a large group like Orange and was able, thanks to its design expertise, to build a long-term relationship based on mutual trust.
Delivering value is one thing; successfully meeting the challenges of market transformation, uses and needs is another. This is where the main challenges of the collaboration between Orange and Attoma lie.
Orange and Attoma: turning collaboration into a trust-based partnership
The support system for the Orange Group has been in place since 2013 within the xdlab B2B team. In this framework, Attoma has collaborated in many areas such as IoT, production tools and B2B projects, building a trust-based relationship with Orange and operating as an integrated agency within the Group. It has been involved in numerous projects such as:
Professional Inbox Tool (mailbox interface for clients)
Live Objects (sensor management application for technicians)
Smart Operation (data management and IoT applications catalogue)
My Office Phone (mobile application for call management and fixed line communication)
…
The main benefit of such close collaboration is to be able to work in a transparent manner, to collaborate with the various business lines, to be involved at the heart of the project in order to effectively assess issues and implement the most relevant methodology and processes. Attoma is involved – in specific projects and at group level – on broader and transversal issues such as accessibility and CSR, the integration of circular design and eco-design processes, and even centralising customer knowledge by implementing a tool based on an "atomic research" approach.
"The main benefit of this way of collaborating is that we are fully integrated into the teams, so we have access to internal tools, which gives us more comprehensive and transverse expertise, and allows us to work on several projects at the same time" Florent Lorthiois, Account Manager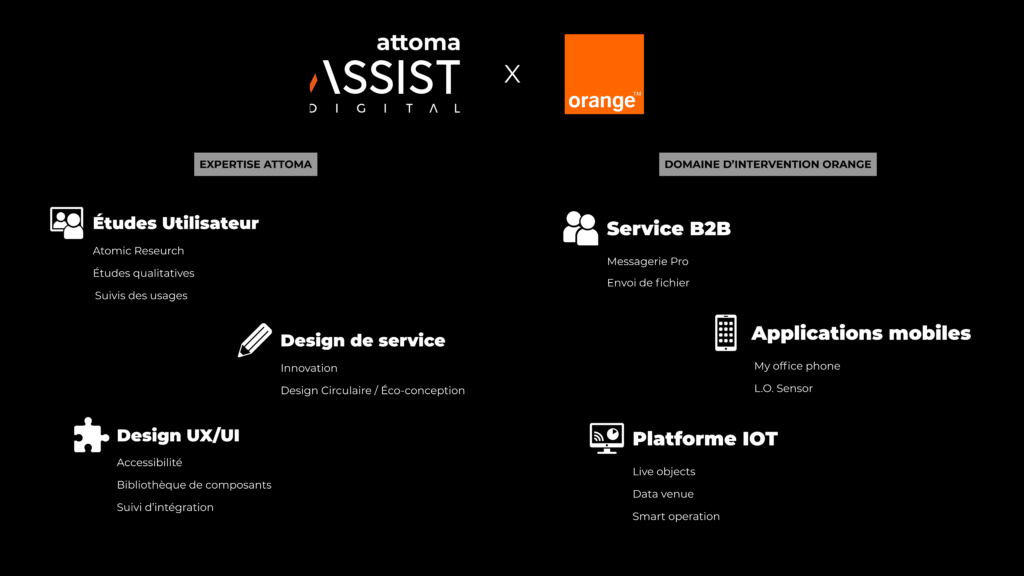 Orange, Attoma Customer experience for professionals: an intricate craft (from Medium article)
At the heart of Orange's ecosystem for professionals, the Professional Inbox Tool involves huge business stakes and high user expectations.
This tool is often vital for professionals because it allows them to communicate and collaborate with their customers, suppliers, partners, etc. via email as well as features like the address book, calendar, the ability to send large files, etc.
Being able to collaborate closely with the designers and user knowledge managers over the long term was the key to a successful project. This helped us redefine the functional scope of the application, review the information architecture and offer an experience adapted to any device.
It is the leading professional messaging service in France, used by more than 1.5 million professionals. This collaboration has earned multiple Orange Group internal awards (Bizz Award "Best Project Team Transformation" and The Choice Award "Transformation & Agility") and we are now developing a new version of this tool as well as designing new ones to meet ever-changing uses and needs in professional communication.